Sites to visit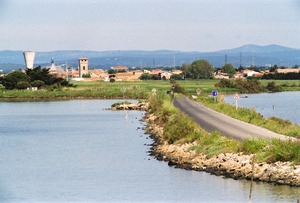 We are lucky to be located in a fantastic environment.
Next to the estate is the roman St Etienne Church (XIth century) which offers a privileged view on the steeple and the stained-glass windows.
Behind our winery, we can enjoy a panoramic view stretching as far as the nearby sea.
5 minutes away from the estate you will find a natural sanctuary full of flamingos between sea and lagoons. The beach, preserved from intensive building construction, is 9km long ('Blue Flag Beach' label since 1985). A lovely walk or ride will take you to the unexpected and impressive Cathedral of Maguelone which was built on a peninsula, right in the middle of a pinewood.
We also invite you to discover the magic landscape of the Arnel lagoon, the former old salt marches which have been farmed since the Roman period up to the 70's.
North of the village stands the Massif de la Gardiole which spreads over 5,000 hectares. Several walking paths wind up their way through the garrigue, offering a wonderful view of the coast, the bassin de Thau and the hinterland.